about the exhibit
overview

on view
public programs

projects
participants
images
multimedia
design

organizers
sponsors
credits
press info
The exhibition Into the Open highlights America's rich history of architectural experimentation and explores the original ways architects today are working collaboratively to invigorate community activism and environmental policy.

In the absence of large-scale public infrastructure projects in the United States, local initiatives are becoming laboratories for generating new forms of sociability and civic engagement. These new community-minded architects are questioning traditional definitions of practice by conducting unique research into the socio-economic challenges and environmental rifts that define our times. They are going beyond building-- defining architecture not just as a physical infrastructure, but also as a social relationship.

Into the Open debuted as the official United States representation at the 2008 Venice Biennale, where it offered international audiences insight into the ways America's architects are reinventing public space. Critics noted the exhibition's unusually sober assessment of the challenges America faces, as well as the inspired attempts by grassroots architects to mitigate these conflicts. In presenting the architects featured in this exhibition in Venice, New York, and finally Philadelphia, where the American experiment began, we underscore the power that intellectual entrepreneurs can have in enacting positive change.

Currently on display in Philadelphia, the projects featured in the exhibition are divided between the National Constitution Center, Independence Mall, and the Slought Foundation on the campus of the University of Pennsylvania. Additionally, off-site community programming is being presented in partnership with local organizations. At the National Constitution Center you will encounter eight of the sixteen projects, including Estudio Teddy Cruz's 89-foot photo-narrative of the U.S.-Mexico border and Alice Water's model Edible Schoolyard outside on Independence Mall. Immersive, bold, and interactive, the intention of this exhibition is to inform and provoke--but commentary and participation are essential. We hope that the ideas presented in this exhibition prompt discussion in your own communities, adding yet another layer to the mix: your thoughts, your voice.





Venues:

National Constitution Center
Slought Foundation
July 15 through September 7, 2009

Parsons The New School for Design,
Sheila C. Johnson Design Center
March 4 through May 1, 2009

The U.S. Pavilion for La Biennale di Venezia,
11th International Architecture Exhibition
September 14 through November 23, 2008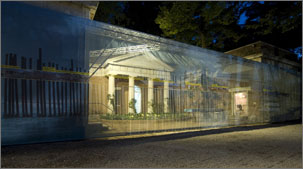 Slought Foundation and Parc Foundation
Presenting Organizations

William Menking, Aaron Levy, and Andrew Sturm
Curators

Participants:

The Center for Land Use Interpretation
the Center for Urban Pedagogy (CUP)
Design Corps
Detroit Collaborative Design Center
Gans Studio
The Heidelberg Project
International Center for Urban Ecology
Jonathan Kirschenfeld Associates
Project Row Houses
Rebar
Rural Studio
Spatial Information Design Lab/Laura Kurgan
Studio 804
Smith and Others
The Edible Schoolyard/Yale Sustainable Food Project
Estudio Teddy Cruz